Appointments/Hours/Location
Location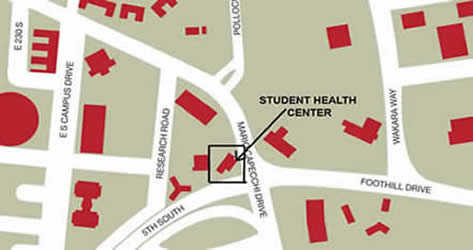 555 Foothill Dr. Level 1
Salt Lake City, UT 84112
Phone: 801-581-6431
Fax: 801-585-5294
Appointments
Please call in advance for an appointment or schedule online.
The Student Health Center offers both virtual visits through Zoom for Healthcare and in-office visits for students during our normal operating hours listed below. (Not all insurances cover visits with Student Health-please check with your individual insurance plan or with the receptionist when scheduling.)
Appointments are 15, 30 or 45 minutes long. If you must cancel or reschedule your appointment, call at least one hour before your scheduled appointment to open a spot for other students and avoid a missed appointment charge. Longer appointments allow health care providers an opportunity to evaluate thoroughly your immediate health concerns and discuss all aspects of your health including preventive health care.
Hours
Operating Hours: Monday-Friday, 7:30 am to 5 pm
Appointment Hours: Monday-Friday, 8 am to 4 pm
Appointments for vaccines and lab tests only: Hours: Monday-Friday, 9 am to 4 pm
TB testing hours by appointment only: Monday through Friday 9am-4pm. Quantiferon Gold Blood Test only No TB skin testing at this time.
Note: Clinic is closed on Wednesdays,12-2pm.
Note: All immunizations, titers, and TB test require an appointment. Please schedule online ( click here )or call for details/questions.
Extended Hours
Tuesdays, evening appointments to 6:30 pm
Fall and Spring Semesters only

Tuesday, 7:30 am to 7:30 pm
Note: Extended hours do not apply to Tuesdays during or near breaks/holidays.
After Hours
Please see our Appointments After Hours page or View University of Utah Ugent Care options. You may also call 801-581-6431 for recorded directory information.