Appointments/Hours/Location
Location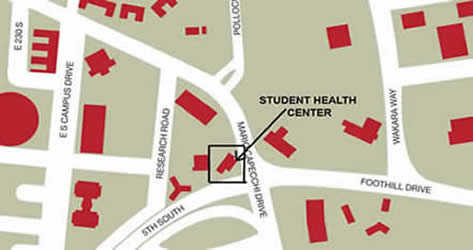 555 Foothill Dr. Level 1
Salt Lake City, UT 84112
Phone: 801-581-6431
Fax: 801-585-5294
Appointments
Please call in advance for an appointment.
Appointments are 15, 30 or 45 minutes long. If you must cancel or reschedule your appointment, call at least one hour before your scheduled appointment to open a spot for other students and avoid a missed appointment charge. Longer appointments allow health care providers an opportunity to evaluate thoroughly your immediate health concerns and discuss all aspects of your health including preventive health care.
Hours
Operating Hours: Monday-Friday, 7:30 am to 5 pm
Appointment Hours: Monday-Friday, 8 am to 4 pm
Appointments for vaccines and lab tests only: Hours: Monday-Friday, 9 am to 4 pm
TB testing hours: Monday, Tuesday, Wednesday and Friday 9am-4pm. No TB testing on Thursdays.
Note: Clinic is closed on Wednesdays,12-2pm.
Note: All immunizations require an appointment. Please call for details/questions.
Extended Hours- No Extended hours during COVID pandemic (see home page for details)
Tuesdays, evening appointments to 6:30 pm
Saturdays, appointments from 9 am to 11:30 am
Fall and Spring Semesters only

Tuesday, 7:30 am to 7:30 pm
Saturday, 9:00 am to 12:00 pm
Note: Extended hours do not apply to Tuesdays or Saturdays during or near breaks/holidays.
After Hours
View University of Utah Ugent Care options. Or call 801-581-6431 for recorded directory information.